Hey, everyone!
I'm starting to go through and put together a Class A 'Kirk' from TMP. This is a rarely used one so I like the thought of wearing it. I wore my maroon monster to a con this past weekend and people went nuts - you just don't see these costumes around anymore, especially hand made and with the time and love invested in them that a real costumer gives it.
I'd like to take a moment to say thank you to everyone for your notes, scans, comments and thoughts on these uniforms you share here. It's been invaluble reading.
This will probably not be as 'up to screen standard' as some might do, but I think it'll certainly draw the eye.
First off, the materials. This is a soft stretchy blend from JoAnns - I'm allergic to wool, so I can't really wear that as one might normally. Loden green might still be out there somewhere, but I'm going with a more 'screen seen' gunmetal gray for the darker part of the uniform. It looks more brown here because of the background I think. I also will bump the zipper up to a 22" version.
I just got my TMP pin from Roddenberry yesterday. I was worried it would just be a 'flat' pin because of some of the images on the costumes here showed the originals sewn on, but they have pins. You figure someone like Kirk and the principals would have ones that go through, even if images are not taken up close.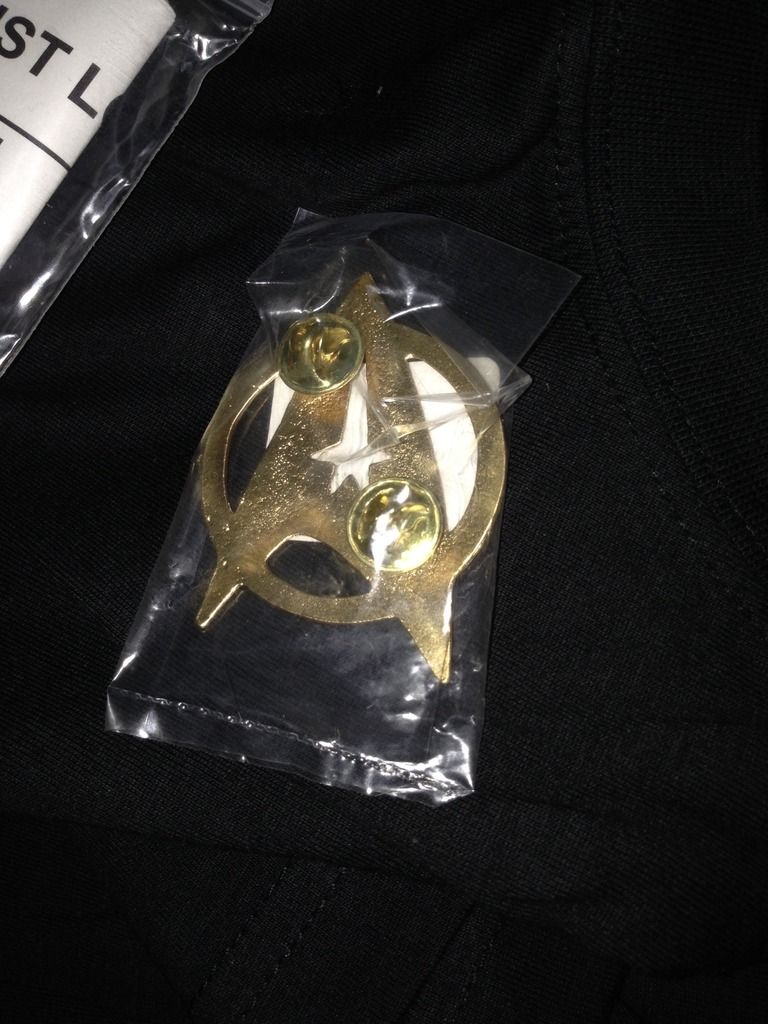 I've ordered about five yards of naval lace and once that's done, I'll create a template for sewing the soutache onto the lace and post that up as well.
From here I went to Wal-Mart and bought some cheap $1/yard fabric to do a prototype and get an idea of sizing and what I was going to do. . Using a longsleeve shirt, I laid it out and started cutting. I started marking out a basic shape for the white part of the costume, draping it from neck to just below groin level, marking it and then cutting it on the fold. Additional pieces were added to that with the arm circles left open. I pinned the whole thing together to get an idea of it.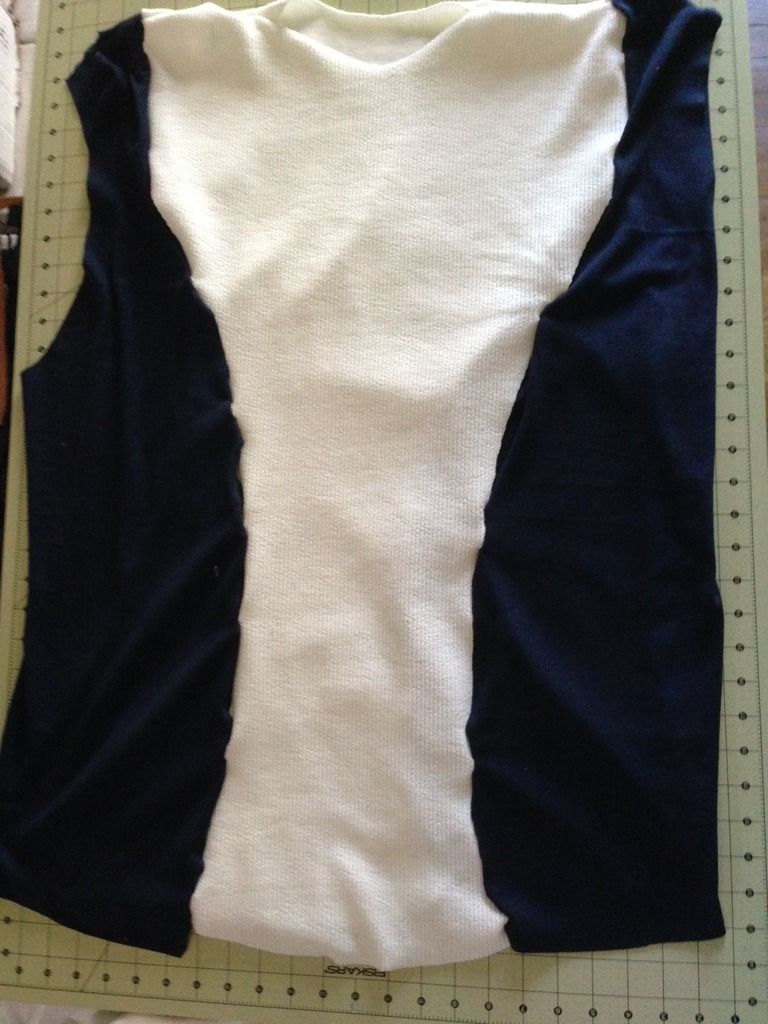 I chucked a little piece across the 'belt' line just for reference and cut the sleeves.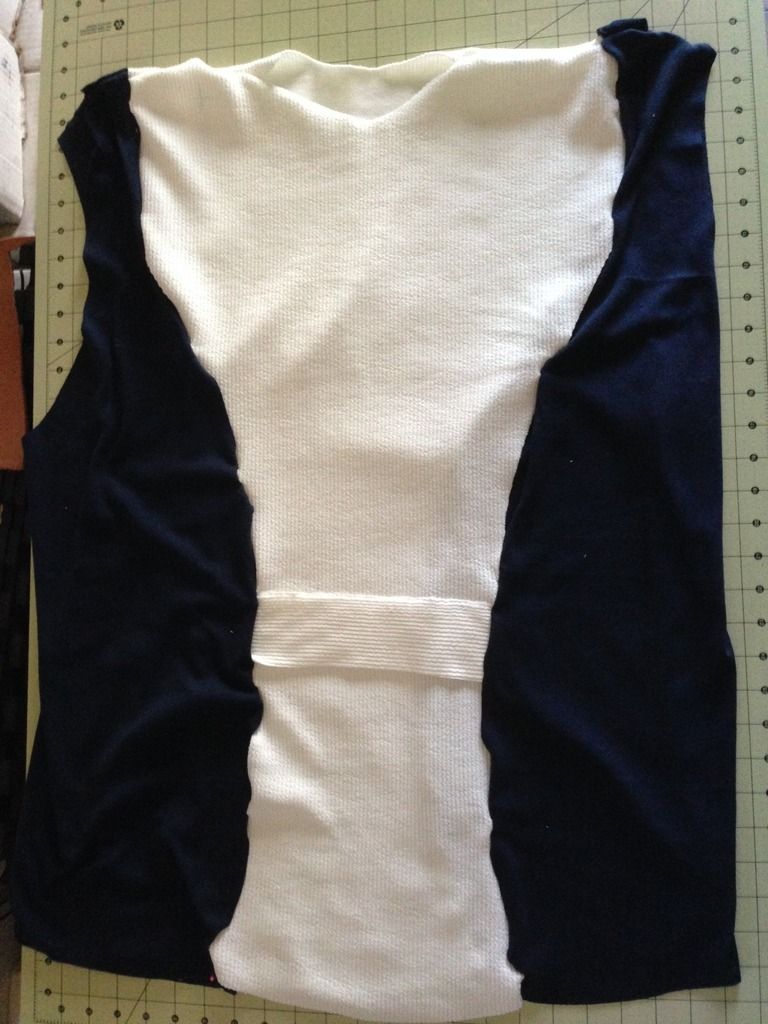 Pinned sleeves on to get an idea of the length - going to the wrist.
Now from here I had my Blu-Ray in and started watching the whole 'Enterprise' section of the movie and my wife (bless her) sat with me as we did some breakdown of the costume for it's creation. Most notably, I've got to cut the white part with a smoother part on the chest. I went straight down and then dipped in when making the white panel. It should be a softer curve.
1. Judging by the way the white part moves, it's a second panel laid overtop of the green shell. (Meaning my construction above has to change)
2. The collar is a stand alone piece with 5 stitches. It circles his neck but is not a part of the fabric under it - which tells us it's probably blind stitched down.
3. The rank epaulet covers the joining of the materials at the shoulder (a good thing considering how much fabric that brings together).
4. One shot shows the costume has an odd shoulder tuck - I don't quite know what to think of it. 
5. Kirk's seam on the side of the costume includes a gusset fold which allows it to be tailored. This is good, as I came up with extra when I wore it and my wife pinned it.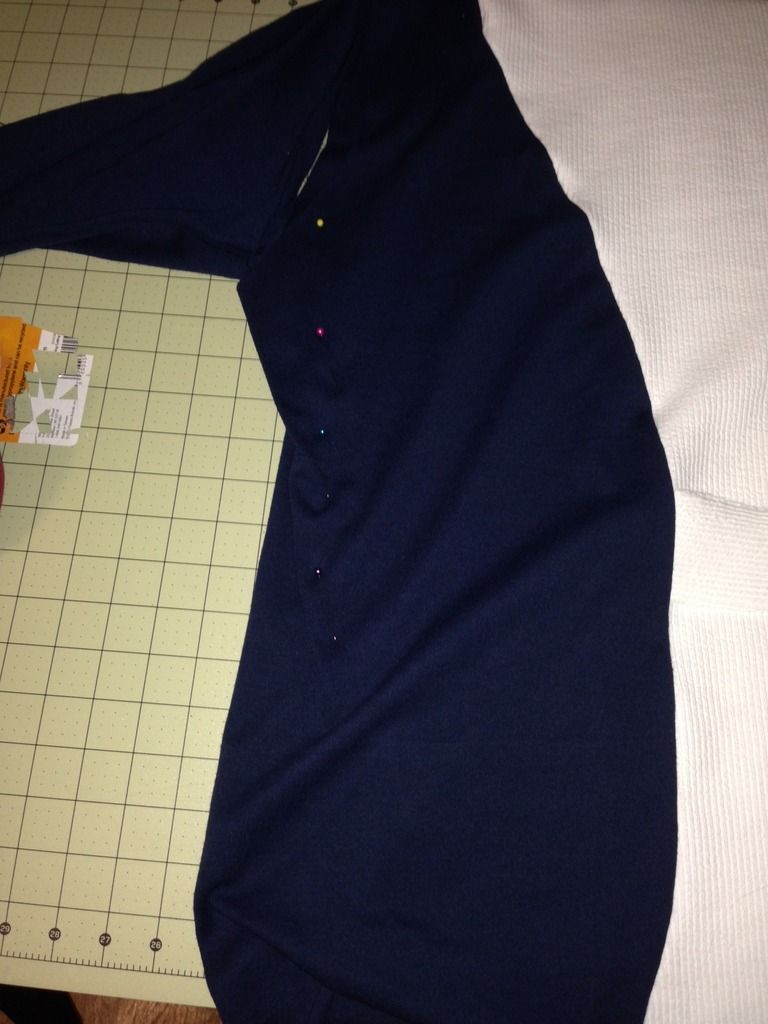 It should really fold over and leave a gap like this:
Which emulates:
Not the base on the side. I guess it had room to let it out if necessary but I see that as a way to fit the form of the wearer better.
Okay, that's it for now. I hope to work on it more this weekend but would love any thoughts, feedback, examples you've seen, etc.!
Thanks for looking!
-Mark